Kick-Off Dinner
The Greater Michigan MSCA sponsored the first Student Chapter for the Mechanical Service C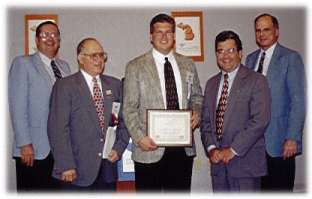 ontractors of America at Ferris State University (FSU).  A kick-off dinner for the new Chapter, was held April 30th, 1997 in Big Rapids. 
"Ferris State University is nationally known for its Heating, Air Conditioning and Refrigeration curriculum.  It is a nationally recognized leader in the HVACR field, stated Greater Michigan MSCA's Chairman of the Board Lloyd Zill, as he addressed the gathering.  We are tremendously proud to be here."
Pictured Above - Left to Right – Russ Smith, MSCA Representative, Lloyd Zill, Greater MI Chairman of the Board, Scott House, Ferris State Student and instrumental in forming chapter, Donald House, UA Special International Representative for Service, and Walt Maner, Executive Director Michigan Mechanical Contractors Association.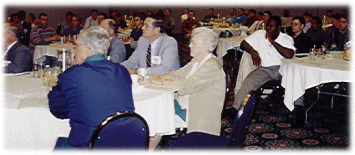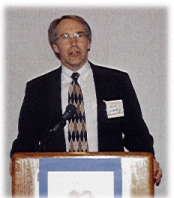 Greater MI MSCA's President Sandra Miller echoed the praise, "These students represent the future of the HVACR industry, the type of personnel that the MSCA Contractor will need as we continue to advance in the service industry."
Between students, faculty, Ferris officials, Greater MI MSCA members, and UA representatives, over seventy-five people were in attendance, an excellent beginning for this new endeavor.  We were honored to have the University President - Dr. William Sederburg, (pictured right) along with Dick Shaw, Program Director of Ferris's HVACR Program all who praised the strong, professional start the Chapter was given by Greater MI MSCA, and John Tomczyk, the Student Chapter Advisor.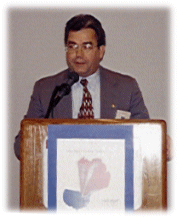 Don House, UA International Representative (pictured left) was featured speaker for the event.  He spoke about his personal commitment to Ferris State (he has two sons in the alumni and has made more than a few tuition payments). He then explained to the students what their prospects will be in the organized sector in the HVACR field.  He spelled out UA General President Martin Maddaloni's strong commitment to their chosen industry.
Russ Smith, Smith-Hammond, and President of the Michigan Mechanical Contractors Association presented the Charter to the Founding Chapter Officers. 
  
  


FIRST ALUMNI MEMBERSHIP BOARD ELECTED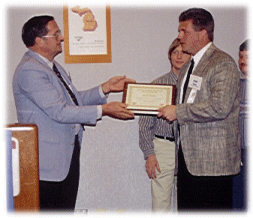 The effort to form the Chapter was spearheaded by Greater MI MSCA Chapter President Miller with the strong support of Scott House. 
Scott, who was then graduating from FSU's HVACR four year program, was instrumental in the Chapter's formation.  He did all the work necessary on the College Campus, contacting the Office of Student Leadership, meeting with Professors, along with the support of other faculty and students, and worked directly with the MSCA offices. 
For his efforts, Scott was awarded the first "Alumni Membership" for the Chapter (pictured above).  He has agreed to stay involved with its efforts, and to assist in any way he can.